Global Volunteers
Global Volunteers
A private nonprofit U.S. corporation in consultative status with the United Nations, was founded in 1984 with the goal of helping to establish a foundation for peace through mutual international understanding.
The history of the program in Poland dates back to 1990, when Rural Solidarity invited Global Volunteers to teach conversational English in rural communities of former Siedlce Province and presently the territory of Siedlce county.
Since 1990, more than 3000 volunteers have helped students improve their English skills. During the school year, some volunteers teach in rural elementary- and middle-school classrooms, while others can also assist children with special needs in two settings: a oarding school for youths with physical and mental disabilities in Stok Lacki and a home for children from dysfunctional families in Kisielany.
Summer teams teach at English-language camps where volunteers and Polish students live and study together, take field trips and play games. The manor house - "Reymontówka"- is the home for volunteers who come to Poland and the invitation for Global Volunteers to work with and learn from local people is generously extended by Siedlce County Government.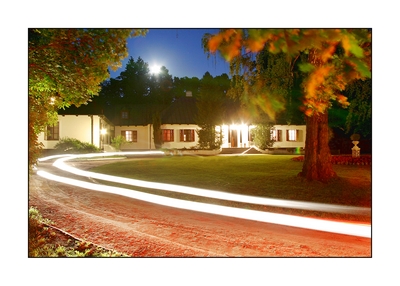 Tourists and rest offers
We proffer to out visitors:
- 40 beds in single rooms, double ones and in dormitories,
- a suite of rooms, a conference room and a library are all furnished in respect of a style,
- a canteen with the traditional Podlaski cooking which is provided with salubrious food from own garden and greenhouse,
- an audiovisual equipment and a satellite television,
- tennis-courts and a swimming-bath for children.


We organize:
- plein-art painting schools,
- meetings, courses of instruction and conferences,
- holidays, summer camps, one - and several-dayslong visits,
- concerts, balls, weddings and other family celebrations.
Here are Chlewiska advantages:
- quiet, rest, discretion,
- crystal-clear air, woods,
- only one hour time driving from Warsaw.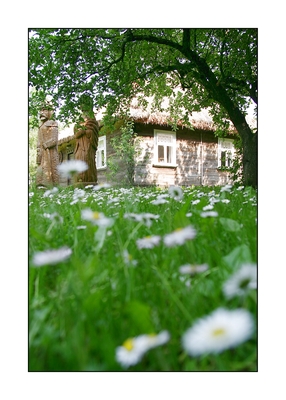 History of Reymontowka

Rest House for Scientists and Artists Reymontowka
"Reymontówka" Rest House for Scientists and Artists at Chlewiska, Kotuń Commune, is placed among forests and meadows, 20 km west of Siedlce, 6 km away from the international route No. 2.
It is situated in a monumental manor-house which was built for the Różański's family in the middle of the XIX century. Succeeding owners of the mansion and the adjacent manorial estate were Józef 
Helbich, Stefan Helbich and "Sparos" Land Company. In 1926, the manor-house and 300 ha. of the manorial estate was bought by Aurelia, Władysław Reymont's widow who designed part of her husband's Nobel Prize for that. Reymont had got this aword for the novel "Peasants".
Under Aurelia Reymont, Chlewiska was prosperous, among other things the eastward part of the mansion was added then as well as a new wicket-gate together with a fence of the Tatra Highlands style where erected. At that time a park and a garden were arranged, new paths were made and original trees, shrubbery and folowers were planted after the contemporary fashion.
In 1939, the mansion together with the manorial estate was bought by Feliks Tyminiecki - the chairman of "Węgloblok" Coal Company. In 1981, after recurring several times alternations of the owners the manor-house together with the park were bought by Department of Culture and Art of Voivodeship and "Reymontówka" Rest House for Scientists and Artists was created at that place.